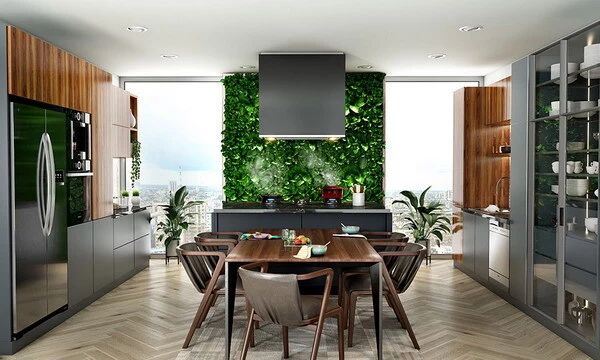 Modern kitchens are homely and have a multifunctional function. In terms of color, dark tones are still in the running, but delicate pastel tones also seem to be convincing. The design and the shapes are becoming more and more unobtrusive and minimalistic. In this article you will find out what other kitchen trends are available for 2023 and how you can implement them cost-effectively with adhesive film.
Natural look
Many living trends are now concerned with sustainable design and natural effects. So it's not surprising that this should also find its way into our kitchens. Wood, stone and concrete are the important factors here. Whether as a kitchen front, worktop or kitchen rear wall. Whether alone or in combination with other colors or materials. Nothing is reminiscent of ornate country kitchens. Everything remains simple, thinly processed and optically light. The great thing is that you can implement this trend quickly and inexpensively with our wood, concrete or stone foils. All foils are ideally suited for use in the kitchen area, as they are waterproof and antibacterial. In addition, the kitchen foils have authentic grains and are deceptively close to the originals. In contrast to real wood, the foils are much more functional. Because wood is and will remain a sensitive raw material that needs to be looked after.
Dark kitchens
Dark and black kitchens are very popular right now. They look noble, minimalist, courageous and seem timeless. What you would never have dared to do in the past has now grown into a huge trend. All materials as described above fit in with it without any problems. Because, as is well known, black goes with everything. The best choice is always matte colors. So matt anthracite and matt black. This looks more cautious and doesn't drive you too crazy when it comes to cleaning. With our adhesive films black, dark gray or pigeon blue you can implement this great effect yourself. You don't have to pay attention to anything when caring for the matt surface and you don't need any special cleaning agents.
It also gets dark in the cupboards and drawers
It has to fit the overall picture when you open the wall unit of a dark kitchen. That is why dark colors, such as dark gray, are increasingly being used for the interior design of the bodies. Of course, you can also do this in your kitchen with the black or dark gray adhesive films. Then you should be aware that there is a lot of work to do. But it will certainly look great afterwards!
Sinks and fittings with a difference
The stainless steel faucet and the white sink are slowly being banned from the kitchen world. This combination is rarely found anymore. Here, too, the trend is moving towards other colors and materials, such as black, gold or copper. And yes, if the surface is suitable, you could theoretically redesign your sink with our foils. In addition, you should have some experience with the adhesive films, so that the result is really good.
Soft colors are the icing on the cake
Delicate and light tones bring some variety and life to a minimalist kitchen design. Isolated fronts, designed in a well-considered system, loosen up the look. You should use natural colors. Colors such as mint, light pigeon blue, sky blue or sand yellow are ideal. You can also find these colors in our online shop. To bring a touch of color into your kitchen, you don't necessarily have to redesign the fronts. Special accessories, such as vases, bowls or fresh herb pots, already bring an enormous burst of color.
Marble is all the rage
Marble is one of the oldest building materials in the world and is now a huge trend factor for kitchen design. The most popular is white marble, but beige marble and very dark variants are also conceivable. Most of the time, the light marble is used extensively and supplemented with dark or copper-colored elements. Let your kitchen shine in an elegant marble look – quite simply with one of our marble foils. It is best to choose one of them and combine it with a monochrome or other unobtrusive adhesive film. So that the marble design does not become too extreme, we advise against a combination of different marble foils.
Luxurious kitchens
Gold, brass and copper are currently very popular and give your kitchen an incredibly elegant look. It's brave, but it just looks sensational. With our foils such as iron oxide, finely brushed gold or rust, you can create a very unique design that is guaranteed to be astonishing. Use the foils carefully, however. You can achieve the greatest effect by wrapping your fronts in combination with unobtrusive materials such as stainless steel.
Blue and Green Kitchens
In 2020 the colors of the ocean were the colors of the year and suddenly they got more attention. Whether in the fashion world, graphic design or, more recently, in relation to the design of kitchens. Several kitchen manufacturers are now using the colors blue and green. And you can do that too! Our color films medium blue, royal blue, sky blue, pigeon blue and mint green are perfect for a modern design with a fresh color design. Combined with natural looks such as birch or oak, you can transform your kitchen into a modern and natural cooking oasis.
White stays in
If you prefer to be on the safe side, you can always go back to a white kitchen design. Because this design is apparently not going to go out of style. A big plus of a white kitchen is the recurring friendly character. In addition, it makes small kitchens in particular appear larger and makes the room light and airy. The battle takes place between matt white and white high gloss. Whereby the matte version is clearly ahead this year. You can find both foils in the color foils category.
Kitchens are sustainable
In 2023, the sense of ecological design will increase. So with our foils you are right on trend. Because they are produced in a resource-saving manner and do not contain any harmful substances. Natural materials such as real wood or stone are not withdrawn from the environment and there are no long transport routes. In addition, all emissions that arise in relation to the production and processing of the adhesive films are determined and recorded as part of the carbon footprint. With the use of decofilms kitchen foils, your kitchen will also be a little greener.