If you are designing a kitchen from scratch or replacing an existing kitchen, flooring is unlikely to be the first thing you choose.
But when it comes to remodeling, extending or perhaps building a whole new kitchen, there are so many decisions to make and things to consider! It's easy to feel overwhelmed by all the options and choices, but we thought we'd shed some light on kitchen flooring 2024, with 4 kitchen flooring trends predicted for 2024 that are set to stay.
What are the 2024 kitchen flooring trends?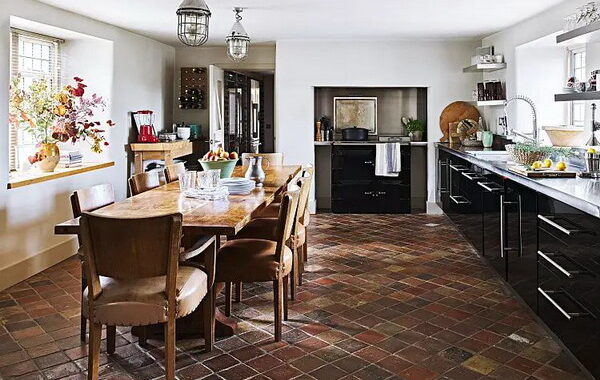 As owners, we always seek to keep our homes comfortable and up to date. If you're thinking of updating your kitchen flooring for the new year, you need look no further than our guide to kitchen flooring trends for 2024. To make sure you have all the information you need to pursue your home improvement dreams, we've compiled a list of 4 flooring options you might consider using in your home's kitchen.
Large slab paving flooring trend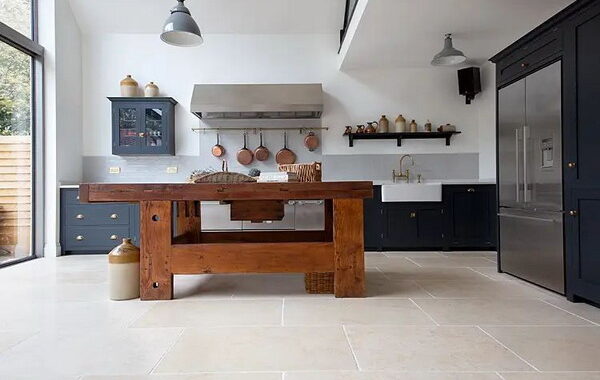 The first trend we see for 2024 has to be large stone slabs! For centuries, estates and country houses have used flagstone floors (natural stone slabs), thanks to their resistance characteristics and classic look that have stood the test of time. Now more than ever, homeowners want to create that timeless look in their kitchen by choosing large format slabs. Most commonly, the tile size is 'free length' or 'random length', where the widths are fixed (usually 500mm or 600mm) and then the lengths are a random selection. This free length slab has the ability to work in any 2024 trending kitchen and emphasizes the beauty of each tile. Monte Carlo limestone and Versailles limestone display this format magnificently.
Real wood flooring for the kitchen 2024
For those looking to invest in a high quality, durable and timeless flooring option. Real plank flooring is the perfect option for you. Considered a more traditional option for many, plank flooring has become a breath of fresh air in modern home design due to market saturation with faux wood prints on non-wood materials. The durability and longevity of this flooring option makes it perfect for high traffic areas like kitchens. Wood can be laid in a wide range of patterns to add simplicity or fun to any space. Patterns like herringbone are perfect for more classic homes,
Get ready for checks and stripes
Checkerboard floors have been extremely popular in the past. The Victorians loved a tiled floor, for example. They are back once again and proving particularly popular in the kitchen flooring world. The checkerboard pattern, once part of traditional design, has now become a trend in its own right and has become one of the hottest trends for surfaces and tiles in kitchens. Stripes are equally popular and for the ultimate combination the two can be contrasted together. A checkerboard floor is an original tile that adds pattern to a kitchen without it becoming overly complicated or over the top. The overall look will depend on the colors chosen than anything else, as it doesn't need to be traditional white and black. Contrasting or similar shades can be used to soften and warm the space.
Terracotta tile flooring for a modern kitchen 2024
Made of very durable natural materials, a variety of finish styles available, warm and earthy feel, suitable for indoor and outdoor use, resistant to mildew and bacterial growth! Terracotta tiles are a timeless flooring option due to their durability and warm tones. Terracotta has been used throughout history, but is making a comeback in 2024 due to its rustic charm and warm look. Terracotta tiles come in a variety of shapes and patterns, and they're a great option for farmhouse styles because they create a warm aesthetic in any room they're in. Do not hesitate to adopt the terracotta kitchen  to bring more naturalness and comfort.