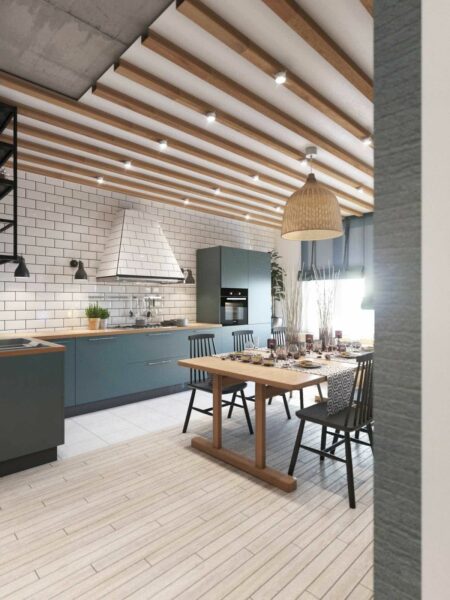 When designing modern kitchens, concepts such as social cooking, organic cooking, chef cooking and the idea of personalized cooking are handled. In other words, not only do the trends imposed by the professionals count, but space is left for personal creativity, more trust is given to one's own taste and the combination of objects and styles to create a unique and original space.
We will see some of the trends that are presented in this year 2025 and that will be maintained for several more years, which imply changes in the way people live. The kitchen has become a family gathering space, a cozy place with multiple functions, that is why we opt for open kitchens, kitchens integrated into the dining room or living room.
Kitchen integrated to the dining room or lounge
The concept of open-plan loft is and will undoubtedly be in the coming years the constant, because our way of life has changed, we are busy, time is short and we want to be in touch with our family and friends, while we carry out the mundane tasks that sometimes we have to do in the kitchen. We want to live the spaces of our house in a more relaxed and less formal way.
We could also think in the opposite way, that it is this tendency that has influenced the lifestyle, benefiting communication in our family, through various spaces designed efficiently.
In fact, the proposals articulated in architecture, respond to the need for communication in our homes, whether in kitchens that have a classic, modern, traditional or traditional design.
More than ever, we want our kitchens to be social places. More and more islands or more complete kitchen bars are seen that become the center of attraction of space. They include sink, storage space, in addition to some cooking apparatus and seats.
The new kitchen designs include multiple work stations that provide optimal functionality for different social life situations.
Non-traditional furniture is used for a kitchen such as a comfortable sofa. The concept of social and comfortable cooking goes beyond the simple breakfast space we were used to. Details such as fireplaces, paintings, sophisticated lighting fixtures of any size and type contribute to the feeling that one is truly in a living area.
Large windows
The tendency is to use larger windows in width and height to create a sense of space and add architectural interest as in the other rooms of the house. Alternative finishes, textures and new products that add sophistication to the environment.
Ecological kitchens
The importance that the concept of sustainable life has acquired in our daily life is reflected in the products that the market offers. Huge progress has been made in the manufacture of products that collaborate with the use of energy in recent years, whether in faucets, cabinets, floors, tiles or countertops made with recycled materials or certified as environmentally safe.
Water and energy conservation is our great collective objective. The lighting fixtures have also taken great steps on the issue of energy saving as seen in CFLs and LED devices. You can still have a glam touch in the kitchen with energy savings in the way of lighting the sink or countertop.
And finally you can not talk about ecological design without taking into account the integral longevity. And if we want longevity in the products of our kitchen we must demand real quality items.
Natural materials
Environmental awareness brings with it the desire to re-experience the natural, the natural textures of wood, metals, stone and fabrics are re-appreciated. Parallel to this trend is the enjoyment of handmade things. The preference for the artisanal and imperfect, the organic forms, over the perfection of the articles made in series.
Custom kitchen
The main trend in kitchen designs for 2025 as well as for years to come, does not consist of fashion color, nor the most modern equipment, but of design itself. The main thing is the modifications that reflect the changes in the contemporary way of life.
Your personal touch can be given by simple details or by the creation of a completely handmade kitchen like this, the important thing is that it suits your needs, reflects your style and you feel comfortable and identified in the space of your creation.
Many companies work creating spaces that adapt to each way of life, thus respecting the idea that each person has their own kitchen. It is in this context that this modern personalized kitchen emerges, according to the taste and needs of a young couple.
Below we see the image of a kitchen in L with a bar where to share informal meals or chat with friends while preparing food. The intense colors give it a cheerful and fun touch and combine very well with the white of the closets.
Next we see that an original decoration with mirrors was placed, which visually expands the kitchen space.
An open shelving system provides enough storage space to have a clean and spacious kitchen
Kitchen Storage
If you are looking for a modern and discrete storage solution this solution is excellent. This modern kitchen, with smooth and achromatic surfaces, draws attention to two things: the lamp that stands out in such a "minimalist" context and the floating rustic wooden shelves.
Another excellent solution, cabinets that occupy the entire wall.
A shelf like this, allows you to store large objects, tablecloths and crockery for everyday use, easy and practical to access.
In every house you always need storage space for many things. This is really a very good and aesthetically attractive solution.
Kitchen lighting
If you are about to remodel your kitchen and are looking for ideas to give a total makeover to this special space of the house, you can be inspired by this selection of contemporary design kitchens.
A kitchen decorated with light bulbs hanging from a roof barral is undoubtedly a very economical and elegant solution.
Functional and attractive kitchens in different styles, for all tastes, which combine quality natural materials with very stylish lighting systems.
Wooden countertops
Wooden countertops are a very good alternative in the design of modern kitchens. Without a doubt, granite is the most used material, but the wooden countertops, with the correct care, have very good durability and a wonderful appearance.
Any kitchen surface has its pros and cons, but solid wood has a few advantages such as: aesthetically they are very attractive, the surface has a warmer and natural feel, they are treated with a minimum of chemical components, which Makes extremely safe contact with food. They are also easier to cut and install.
Moreover, they are more prone to water damage, stains, scratches or cuts if they are not properly treated. But unlike the rest of the materials, any type of mark can be removed very easily by sanding the surface.
Wooden countertops are often used as kitchen island tops, also in the sink, only in some sections of the countertop or as a butcher block that can be removed as a drawer or basket.
As for the price, wood countertops are generally priced higher than laminate countertops, but they are much less expensive than granite, solid or steel surfaces.
Hidden Outlets
The great disadvantage of the technology is that in most cases it depends on power outlets and unsightly cables. Electrical cables and data cables are often crossed in the field of vision, to the detriment of the natural beauty of an environment. Luckily there are new ways to hide the wires.
The kitchen is the place where more energy outlets are required due to the amount of appliances that are handled.