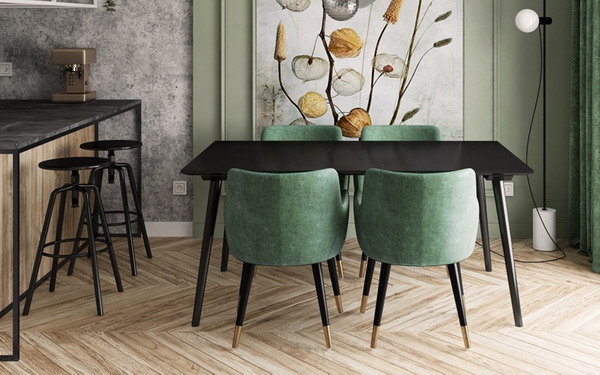 Get ready to discover fashion trends! We tell the main trends and show chairs for the kitchen and living room from our catalog that correspond to them. You can complement your interior with these models, giving it the ultra-modern appeal of a fashion magazine. And with a variety of designs, including a wide range of options, there is something for everyone.
The era of the formal dining area that our parents lived in is a thing of the past for most of us. Our homes are much more welcoming and relaxed today! Kitchens are becoming part of the living room. The table and chairs are no longer just a place for everyday meals, but also a space for dinner parties, and sometimes a home office. Therefore, when the dining area plays a key role in our living space, then, along with convenience and functionality, aesthetics becomes important. We show you the trendy kitchen chairs 2023 that can brighten up your interior.
What chairs are in trend now
To begin with, a small digression about general trends in interior design. Popular interior styles of the past are undergoing changes. The loft has become more sophisticated and sophisticated. A cheerful color appeared in Scandinavian. Since many are tired of minimalistic interiors, it has become fashionable to add a little chic. Or, on the contrary, there are many – luxurious interiors in the art deco or neoclassical style are gaining momentum. Eclecticism is in trend. This is when you can deviate a little from the rigid principles of a particular interior style. Unique interiors are valued much higher today, and eclecticism opens up an endless field for experimentation. These trends are dictated by the desire to create a special attractive living environment.
In the past few years, the Scandinavian style has become dominant. It is uncomplicated, pleasing to the eye and does not clutter up the space. The Scandinavian style chairs fit perfectly into modern open-plan living spaces such as the kitchen-living room. Previously, interiors were dominated by a neutral color palette, but today interior designers and furniture manufacturers rely more on colors. Combinations with natural wood, light or dark, are especially popular. In addition, the topic of environmental friendliness is one of the priorities, and wood is the most environmentally friendly material.
Add the iconic Eames chairs to your dining area. The molded plastic seats make them extremely comfortable, and the solid wood legs and metal cross-braces are truly outstanding pieces of furniture. For more comfort, you can choose models with soft upholstery or stylish semi-chairs with armrests.
Modern chairs for the kitchen
Sticking to a modern style? This year, minimalism and an over-emphasis on brevity fade into the background. Today, the ideal dining area embodies comfort, coziness and individuality. Including spectacular furniture has always been a great way to accentuate a space and make it more inviting. Attractive chairs have become a staple in modern interiors this year.
In fact, brightly colored velor chairs are one of the biggest trends of 2023 and can transform any décor from simple to ultra-modern. There is nothing like beautiful flowers in the house to cheer up. It is the color that will help you create the craziest story about you and your bright personality. You can choose from a variety of options that will make your kitchen look like people have never seen it before.
Beautiful chairs modern classics
Classic interiors never go out of style, even if they are gradually overgrown with new details. One such modern interpretation is neoclassicism. This style combines the main classic features, but is much better adapted to modern realities. It is much simpler visually, but it is still the same rich, luxurious and respectable style with expensive materials and decor. Style assumes unconditional aristocracy. And if you are applying for something like that, get ready to spend a lot. Only natural wood and upholstery made from magnificent modern fabrics can convey that noble luxury that attracts many.
Make your classic kitchen more respectable and comfortable by adding beautiful neoclassical dining chairs. These models are the perfect balance of the past and the present. They will create a stylish, designer atmosphere for your dining space that you will love for years to come.
The most comfortable chairs for the kitchen
The kitchen is where the whole family gathers after a long day. Our life does not allow us to spend much time with our family, so dinner time is sacred for most. This is the only time we can be together and have a good time telling our family about our day. Soft chairs always win when you spend an entire evening in them. After all, models with a hard seat can only be comfortable for a while.
Upholstered chairs are the best choice if you want to make your kitchen comfortable and popular. These are the most comfortable chairs to sit down and enjoy delicious dishes, chatting with loved ones, even after the whole dessert has been eaten. Put your family in these models for dinner, and your household will not want to leave the table!
Luxury armchairs
Creating a bohemian look is another key trend in 2023. Want your dining area to look like it belongs to a movie star? Pay attention to the art deco interior style, maybe it will become your favorite. If there was a perfect way to describe art deco, it would be elegance with a touch of glamor. A modern way to decorate is to add just a few finishing touches and not overload the room with geometric elements and 1920s style. It's all about creating a visual effect in which glossy metals, black lacquer, exotic woods, velvety fabrics and mirrors are key elements.
Beautiful armchairs  with delightful curves are a great choice to place in your art deco kitchen living room. Gorgeous in every way, these models will leave you breathless. Choose the most comfortable chair, add rich color for a sophisticated tone, and think of gold and silver.
Designer chairs for the kitchen
Why would you want chairs that fit perfectly when you can buy models that really stand out? The main trend is to abandon the idea of design for mass use in favor of uniqueness. Try combining different models to create an eclectic look. You can stick to one color palette or a specific silhouette to bring harmony. Or choose different shapes and styles that you like. Or just add one stylish chair to your existing ones.
These designer chairs not only provide the wow effect you are looking for, but come in trendy colors that will make your dining area impressive. The best thing about these chairs is their versatility. They can not only be used with a kitchen table, but can also be incorporated into a living room, bedroom or office as a fashionable accent!
Choosing trendy kitchen chairs 2023 can seriously improve the overall look and feel of your home, especially if you want to get your whole family together for Sunday lunch or holidays. But each of us has our own idea of what a dining chair should be. We have shown you just a few of the models so that you can find the perfect one for your needs. You can see all the options in our catalog.