Planning the kitchen of your dreams? Whether you are going to remodel your kitchen or are looking for a new kitchen, you should think about design, functionality and technology to make your day-to-day life easier.
The kitchen is the heart of your home, so it is normal that you want to turn it into the dream space, either with a modern style or a traditional style with handmade wood effect. As the center of all activity, the kitchen is evolving to make life as efficient as possible while looking very nice and a fundamental part of your home. In Ekitchentrends, we present this year's trends that will help you plan the kitchen design of your dreams:
1.  Elegant Minimalism:
The goal of a minimalist kitchen is to be elegant but functional, and never boring. The key to this is to use quality materials and carefully selected accents. At ekitchentrends.com, we offer you everything from cabinets to dashboards and minimalist inns. Our products are modern and built to last. Explore our kitchen gallery so you know more options of this trend.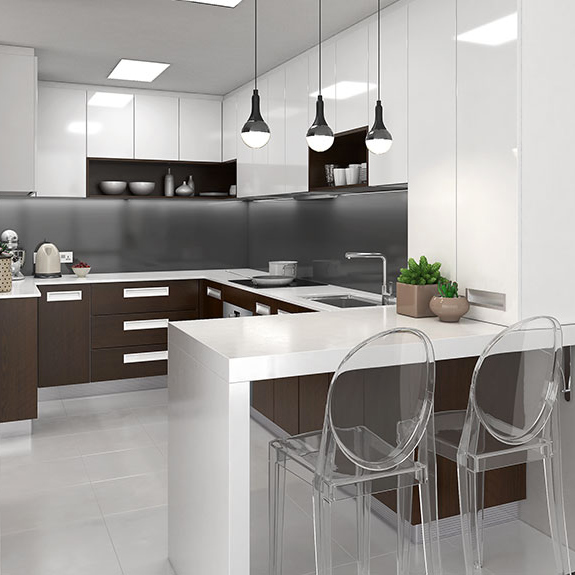 Modern U-shaped kitchen with white cabinets
2.  Custom Storage:
The trend in hidden storage kitchen design will allow you to keep clutter out of the sight of your guests. Sliding and hiding doors are a great addition and any type of pantry can be used. On the other hand, high-ceiling cabinets or tall cabinets offer additional storage very useful in any type of kitchen. If you want to know more types of storage tailored, contact us for advice and support when choosing the kitchen of your dreams.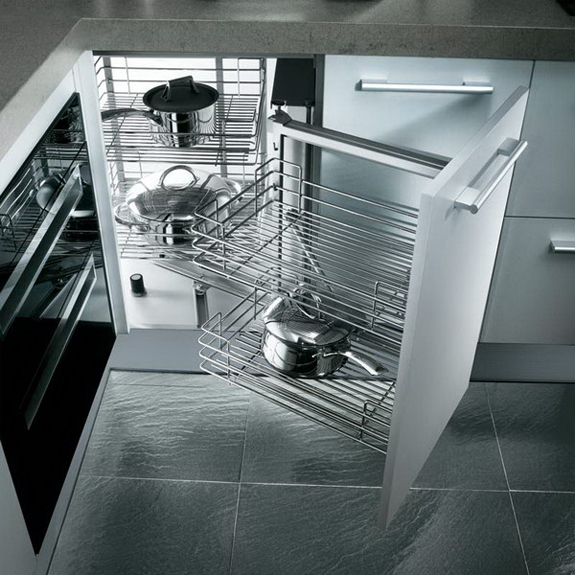 Removable corner basket Lazy Susan
3.  Rustic Wood:
A vintage look in your kitchen will always be fashionable, for that we recommend the use of woods rich in tone and texture. In addition, mixing with different materials such as granite, quartz and stone will give your kitchen a very beautiful appearance. In our showroom we have a wide variety of wood finishes for your kitchen.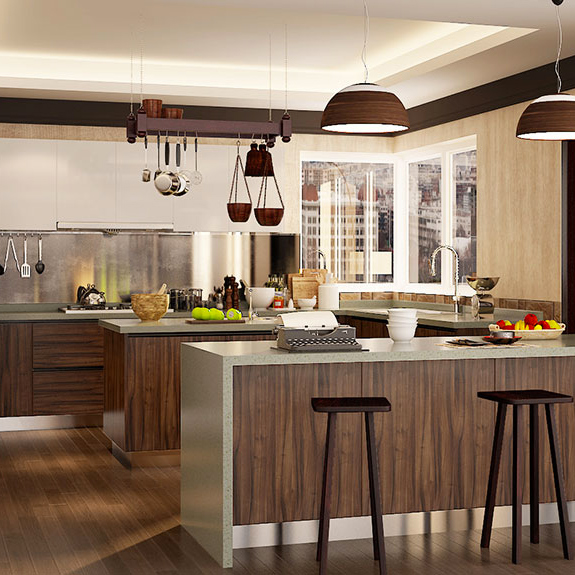 U-shaped kitchen with island in dark grain wood
4.  Functional Taps:
The faucet of your kitchen is an essential element of the home that works hard and always has to be at its best, it can also provide elegance, modernity and design thanks to the wide variety of traditional and modern designs available. Whether you are planning a complete remodeling of your kitchen or buying a new kitchen, the faucets you choose should be durable and sturdy. There is a tap for each style of cooking, so before deciding on one, you should know the new and intelligent features that can help busy households save time on daily tasks. We invite you to know our selection of faucets and kitchen finishes.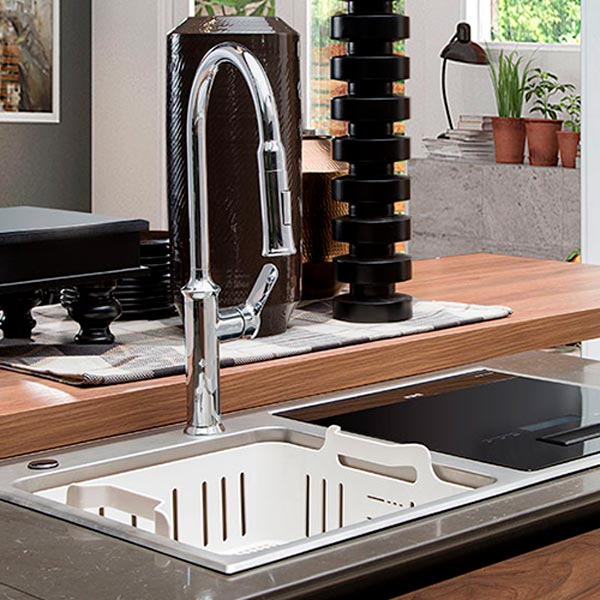 Stainless steel kitchen faucet
5.  Cooking Islands:
An island in your kitchen is not only an excellent place to put things, but depending on its design, it can be used for additional storage, or by adding bar stools it can become an informal dining area. If you feel you don't have enough space in your kitchen for an island, a peninsula is a great alternative. This addition is attached to a wall, so you only sacrifice access to one side, but it offers you many advantages in the design and decoration of your kitchen.
Kitchen island with black lacquer
6.  New Materials For Inns:
Although the use of marble in kitchen counters has not diminished or shows signs of waning, there are new heat and scratch resistant materials that have entered into competition without sacrificing elegance or sophistication. Quartz ( quartz ) has arrived as a high-end alternative for kitchen counters, since it is highly resistant to stains and is one of the most hygienic options for the kitchen of your dreams, it also comes in many colors, patterns and finishing techniques that mimic the appearance of natural stone. One of the most current finishes and with more trends at the moment is the mate.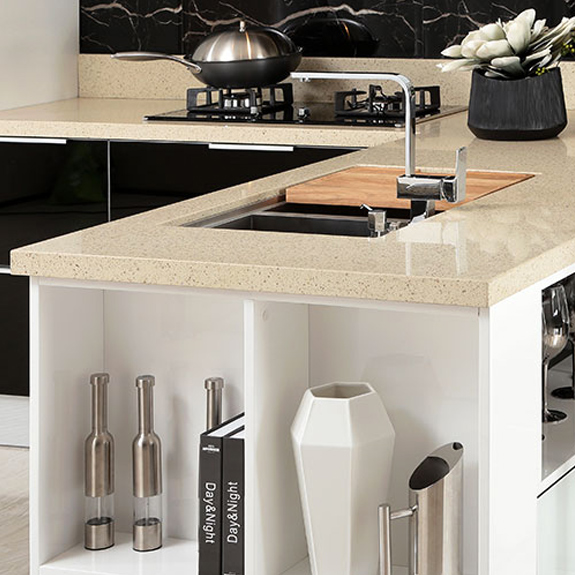 Quartz stone kitchen counter: High hardness, long service life and allows direct contact with food
7.  Dashboards With Design:
The dashboard has long been an important part of any kitchen remodeling. In addition to protecting the walls, it also complements the inn and the overall design of your kitchen. Previously, kitchen dashboards were single-tone ceramic tiles. Today we have the luxury of installing a wide variety of materials such as natural stone, glass, metal, brick or wood. The design of the dashboards has become more creative and artistic incorporating textures and tiles of different shapes.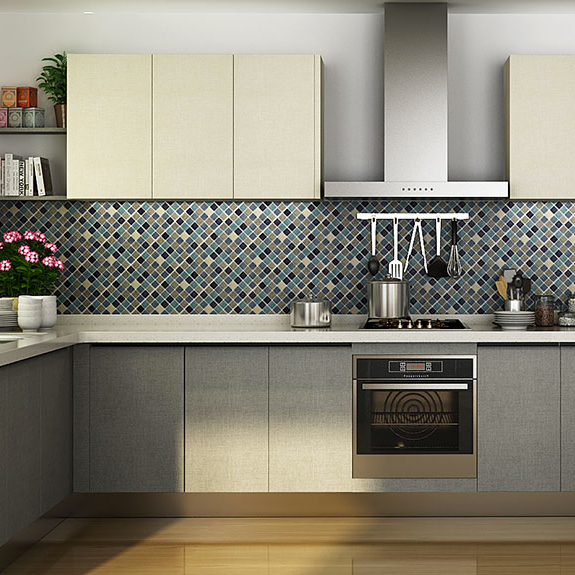 Modern white and gray melamine kitchen cabinet
8.  Glass Cabinets:
Glass was part of traditional kitchen cabinets and cabinets for centuries. Now the glass is being used again to generate modern effects in kitchen remodeling. Glass panels can break the monotony of cabinet doors and thanks to frosted glass you can add textures and lighting to the spaces. This is a solution that allows decorative items and dishes to be displayed and the use of semi-opaque glass helps keep the clutter hidden.