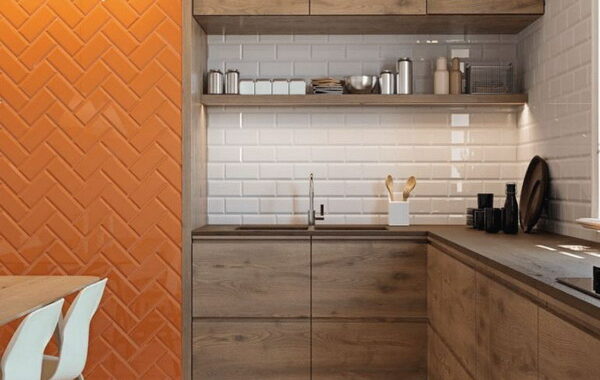 If you are interested in decoration, and want to know the latest kitchen tile trends in 2024, you have come to the right place.
As a preview, we can tell you that, given the events we all experienced in 2022 and 2023 due to confinement, kitchens have become multifunctional and living rooms, and with them their decoration. You want to know more? Stay with us.
The best trends in kitchen tiles 2024
Today's kitchens have evolved to adapt to changes in our society, especially after confinement.
It is increasingly common for people to use their kitchens for studying, watching TV, working and even as a meeting space. These spaces have therefore become multifunctional, and the decoration will therefore go with it.
New trends in tiled kitchen finishes are to be expected for this year 2024. In this sense, if you are considering renewing your kitchen to give it an air of modernity, consider the following tips…
Imitation marble tiles
A classic never loses its touch, especially when it comes to marble and its sophisticated and luxurious appearance. Decorating with marble can be very expensive, but there is an easier solution that these days is both economical and very practical.
These are imitation marble tiles. They are a great way to achieve that look at budget prices. In addition, ceramic is resistant and versatile and can be used both on the floor and on the walls.
Often you can see the combination of wood and marble, a style that is sure to remain a trend throughout 2024.
And, if you like change, instead of having a plain look, you can mix the sophisticated touch of marble with a beveled design. The bevelled Calacata tiles from the Liso/Bisel series by Cerámicas Ribesalbes are a clear example of this.
In general, marble is widely used on countertops and to clad walls, since the veining of this material combines very well with everything. Imitation marble tiles offer this exceptional appearance at a reasonable price, adding many advantages, such as high resistance or zero porosity.
One of the styles that stand out the most in kitchens is the mix of neutral colors, like black and white. A touch of sophistication and luxury. But also, if the imitation marble tiles have golden veins, they will make the kitchen even more luxurious.
Neutral and soft colors in rectangular format
Another of the latest trends in kitchen tiles for 2024 is that of rectangular formats, mainly with soft colors and a small format. One of the examples we can cite is the Ocean series by Cerámicas Ribesalbes.
Likewise, there are beveled tiles, such as the In Metro series, which includes an inverted bevel to give a volume effect.
Both styles have a rectangular format and a variety of soft tones, to give modernity to the kitchen. Also, the trend is towards more neutral colors, such as grays and whites.
In recent years, colors have come to the fore because they have the potential to awaken the senses and captivate the eye. There are many styles that allow the use of soft colors, sometimes with a fun, elegant or natural design.
Indeed, some tones reflect the colors of nature, for a more intimate, relaxing and peaceful space. Among them, green tones and earthy colors.
In addition, the design of rectangular tiles allows different types of decoration for the kitchen, which can be combined very well with wood or marble. They can, for example, be placed on the wall with different shades to emphasize their style.
Square design and bright colors
Square format tiles have again become a trend in kitchens in 2023, and are expected to become so in 2024 as well.
This type of tiling offers the possibility of daring more creative and daring styles to make the kitchen more lively. Or mix in neutral colors for an elegant and sophisticated style.
For its part, the Carpio series by Cerámica Ribesalbes offers a wide collection of square tiles in various colors, bright and eye-catching or neutral and elegant.
Another example is the Earth series, which combines different formats with a shiny appearance and very bright colors, thus returning to the effect of handmade tiles and giving the kitchen a more modern look.
A popular example for kitchens in 2023 has been the use of square ceramic tiles in bright colors for kitchen wall cladding. And if in addition it has a vitrified coating, this will give it a great shine that will awaken the senses.
It is also worth mentioning that it is now common to see retro styles in the kitchen, with tiles that mimic the decorations of yesteryear. These are also colors that evoke nature.
Similarly, square paving offers the possibility of daring and becoming more daring, with, for example, mosaics. And even, in some cases, patterns such as mandalas.
Cement or stone look
As kitchen decorating trends seek to bring the kitchen closer to nature, ceramic designs that look like cement or stone are used.
There are different formats for this, such as square or rectangular ceramics, but the boldness of hexagonal patterns also goes hand in hand with this trend.
For example, the Timeless porcelain tile series has several tiles that look like stone or cement, giving a modern finish to the kitchen.
In addition, there are also the Palomastone and Integra series, which present a more natural look and give a touch of elegance to the kitchen. As if that were not enough, the models of imitation stone tiles and flooring are very varied and versatile to suit all tastes.
The textures of imitation stone and cement tiles are reminiscent of nature. Especially when used to decorate the kitchen floor. However, they are also used on the walls and bring a touch of modernity and avant-garde.
Cement has remained a mainstay of interior design, which is why it never goes out of style. Plus, it's so versatile it goes with almost anything. For example, walls with imitation cement tiles and wooden floors and worktops.
Stone offers a similar decorative experience, as it features a variety of neutral tones that blend well with the rest of the kitchen. It is also reminiscent of walking on a mountain and goes well with wood and granite.
Imitation wood tiles
Wood never goes out of style, but it is gradually being replaced by ceramic tiles that look like it, with a practically real finish. Natural wood has several disadvantages, which ceramic tiles do not have.
For example, tiles are more resistant and hygienic, and can be cleaned more easily, while natural wood is more delicate in its use and obviously requires expensive maintenance.
It is for this reason that in 2024, imitation wood tiles should continue to be a trend among kitchen decorations.
Above all, because these tiles are very similar to real wood, both visually and to the touch.
In the past, dark wood flooring was used, but this trend has changed and now wood effect tiles in light colors are used. Floor or wall tiles in light tones are a common example.
It is even possible to mix the colors to create an effect of mixing different kinds of wood. For example, walls in a darker color and the floor in a lighter color or a mix of colours. It will add a wonderful touch of sophistication.
In any case, wood gives an impression of comfort and elegance, so it will not be outside the latest trends in kitchen tiles.