Dark kitchen fronts, pastel tones and metal accents, worktops with filigree profiles and devices that work independently. Modern kitchens are real multifunctional rooms and – depending on your wishes – wonderfully homely or functional and minimalist. These are the kitchen trends for the new season.
Natural trend: wood, concrete and stone in the kitchen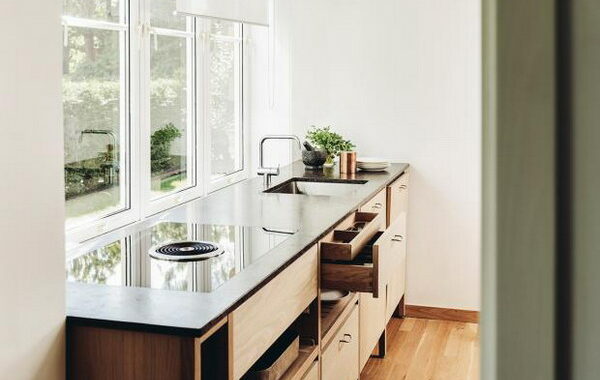 Natural materials such as wood, but also concrete and different types of stone, give minimalist kitchens depth, age with dignity and never go completely out of fashion. Interesting kitchen trends 2022: Kitchens with clearly visible grained wooden fronts are in no way inferior to dark kitchen fronts in terms of modernity. They are combined with marble, concrete or stainless steel.
Once your door profiles and worktops are elegant and slim, nothing is reminiscent of the country house style of the 80s and 90s. On the contrary: the new wooden kitchens are wonderfully airy. In addition, manufacturers such as Leicht or Team 7 strive for the sustainable use of wood from local forestry in their production.
Kitchen trend: dark kitchen fronts
From white to black in a few years: in 2022 kitchen trends will be one thing above all else – dark. The long, classic white kitchen is now black or anthracite more often than ever. This looks elegant in combination with almost all types of wood and lets light accents – such as furniture or accessories in light tones – emerge elegantly and brightly.
Practical: so that oily fingers or fingers dusted with flour do not leave any permanent marks, the new kitchens are usually provided with an anti-fingerprint seal. www.vipp.com
Kitchen trend: soft tones and colors
Softly tinted, yet powerful colors accompany the new "blackness" in the kitchen. The mustard yellow of the past seasons also has an effect in the kitchen, blush and all red and pink tones tinted with black require courage, look wonderfully modern with wood and elegant with marble, especially in small kitchens. What comes next: dark terracotta that looks earthy and conveys cosiness, but doesn't remind you of a trattoria. www.schueller.de
Matt is the new high gloss in the kitchen
From the kitchen front to the wall color in the kitchen to the appliances under or on the worktop – where it shone and sparkled until a few years ago, a matt color palette welcomes us to the kitchen studios today. This applies both to the dark or softly tinted front colors mentioned, but also extends over the entire width of the white or light fronts, which almost all kitchen manufacturers still have in their portfolio as classics.
Here: an L-solution from Schüller in classic signal white of the "Fino matt" variant.
Kitchen trend taps and sinks with gold and copper sheen
You have slowly announced yourself, mixer colors beyond stainless steel. After a detour via the bathroom, fittings in gold, black or copper have now also arrived in the kitchen.
Here: the fitting from Dornbracht is timelessly elegant and relies on the harmonious interplay of geometric shapes. The diameter of the smooth cylindrical shape is uniform from the base to the top. www.dornbracht.com
That is also catching on: small kitchens
It is true that kitchen manufacturers show kitchens that are so large at all well-known trade fairs that one might think that their users are all at home in huge lofts or new buildings with gigantic living-dining areas. But urban reality, on the other hand, tends to provide for one-room apartments or row houses with kitchen niches – and here too, manufacturers such as Schüller, Siematic or Nobilia have long had clever storage space solutions at hand.
Plinths are made smaller in order to create more vertical storage space, or height-adjustable compartments in corner modules or drawers are extremely adaptable for living and cooking in small spaces.
Kitchen trend: filigree worktops
Functional, durable and yet almost indistinguishable from the sideboard: the profiles of kitchen cabinets, drawer elements or worktops will be delicate and filigree in 2022. Depending on the material, they play with an elegant and very cozy industrial look, which the worktop made of brushed stainless steel reinforces here. www.reformcph.com
Kitchen appliances: technology, convenience and a homely look
Technology, comfort and, increasingly important, the look. This is the trend triad for kitchen appliances in 2022. Similar to kitchen fronts, the last few years have brought more and more black or dark gray appliances into the shops. Matt surfaces are currently on the rise here too.
Berbel's "Ergoline 2" extractor hood, for example, is made of black satined glass and comes with matt black hood surfaces. Practical: The headroom hoods of the "Ergoline" family also ensure that even large hobby cooks sizzle without bumps. berbel.de
Kitchen trend 2022 – the kitchen-living room
The smooth transition between kitchen and living area is actually already part of the standard planning repertoire in new buildings. The kitchen is designed as a "room within a room", the dining area adjoins it harmoniously.
Shown in the photo: Bulthaup kitchen "B3" as a row with connected island in an open living and dining area.
Other manufacturers, including Schüller, are now rediscovering the utility room. This offers (in new buildings without a basement) indispensable storage space and relieves the open kitchen, which can then be made comfortable and homely like the area around the sofa or dining table next door.
Dialog oven and other automated kitchen appliances
Modern built-in kitchen appliances are increasingly taking on responsibility for the success of entire menus: Miele's 7,000th generation, including, for example, the highly regarded Dialog oven from the Bielefeld-based manufacturer, can bake almost completely independently. To do this, the dishwasher doses correctly without assistance and starts up automatically. Siemens ovens open when called and Bosch is attacking the "TM6" of the long-standing classic Thermomix from Vorwerk with its new "Cookit" kitchen machine.
Kitchen trend marble
Marble is trendy. Also and especially in the kitchen. In 2022 the stone can be seen in light white and beige tones, but also in dramatic anthracite.
However, if you talk about a marble kitchen, you usually mean quartzite or ceramic. The actual material marble is so sensitive to acids such as vinegar or lemon, but also wine and oil, that it is not really suitable as a kitchen worktop – unless the user loves patina. With this kitchen trend, it appears almost immediately. Worktop and wall cladding here: www.siematic.de
Kitchen trend sustainability: linoleum
Linoleum used to be a popular  floor covering, but now it's making a comeback as a natural product. Linoleum is still made from cork flour and linseed oil today, but instead of only familiar with marbled brown or red tones, as it used to be, it can now be used in new colors on tables or kitchen fronts.
The specialty: Because linoleum is actually sensitive to moisture, manufacturers coat the material with natural resins so that it can withstand damp vapors or splashes when cooking and washing up. The kitchen in the picture: reformcph.com
Kitchen trend 2022 – luxury
Monolithic kitchen blocks with minimalist and strict clarity: while German, Scandinavian or Swiss manufacturers present high-quality kitchens with a homely claim, Italian manufacturers indulge in kitchen utopias.
Boffi's "Code" kitchen range is three years old, but it is still an excellent illustration of the Italian luxury brand's approach. "Codes" Dekton worktop has a seamlessly recessed gas hob made of dark cast iron. The work area is slightly raised. The areas of responsibility are combined in one corpus and yet separate. The design looks huge and awe inspiring, the material is extremely high quality and luxurious. Such kitchens are a statement and less a space for preparing food. www.boffi.com
Kitchen trend: urban coffee shop
And they're still there. A few years ago, small ceramic rectangles suddenly adorned trendy cafés and coffee shops in the metropolises – and then moved into many kitchens. The trendy metro tiles owe their name to a tile classic from the 1960s. At that time they were installed in underground stations in London or Paris – today they adorn kitchens as tile mirrors all over the world. Your advantage: The narrow rectangles made of glazed ceramic are timeless, visually restrained and can be combined with many colors and materials and will probably also be with us in 2022 (and beyond). Tiles: www.haecker-kuechen.de